According to a 2023 report by Mental Health America, one-third of the mentally affected adult population in the US faced trouble in accessing the right treatment.
A staggering 42 percent of people with unmet needs could not receive any mental health treatments. Who or what is to blame for this situation?
Obviously, it is the highly expensive and inaccessible mental healthcare system in America. Add to it the social stigma. And it becomes the perfect recipe for disaster, disrupting emotional health to an unimaginable extent.
However, rising awareness is helping the cause. It has led to the launch and expansion of many affordable mental therapy/psychiatry platforms. The COVID-19 pandemic further fueled this incredible growth. And gave a ray of hope to scores of mentally unstable patients worldwide.
A lot of these services went online to serve customers better across the globe. Meru Health is one such service provider that I will be reviewing today in this article.
About Meru Health
Meru Health is a virtual mental healthcare platform founded by Kristian Ranta, Albert Nazander, and Riku Lindholm in 2016. The company is headquartered in San Mateo, California. It has now expanded its network to cover Denver, Colorado, and Helsinki, Finland.
Meru Health specializes in evidence-based treatments. With partners such as UC Davis and Harvard, the platform has published a number of peer-reviewed journals.
These journals highlight the efficacy of evidence-based care. Meru Health, in turn, adopted these clinically proven approaches for its patients to get impressive treatment outcomes.
Licensed mental health professionals on this platform offer online therapy/psychiatry via a smartphone app. Meru Health also provides an anonymous peer network and a biofeedback wearable to help patients improve their mental health in better ways.
Meru Health Review : Features, Pricing, Pros, Cons and More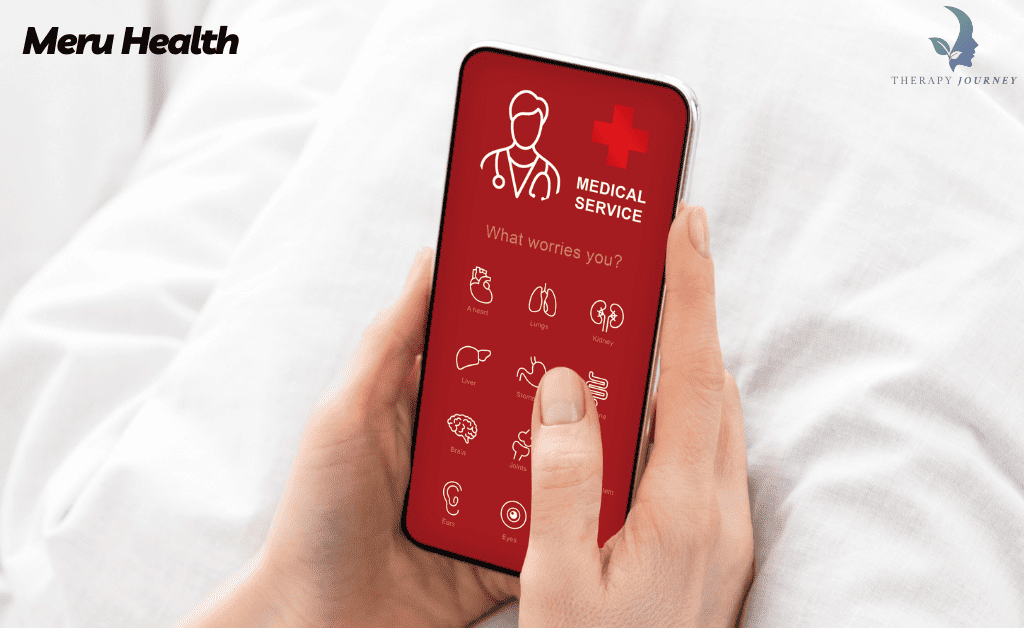 This section explores everything that Meru Health has to offer.
1. How Does it Work?
In this section, I will talk about the major features of the platform and how they work.
Meru Health is a 12-week mental health clinically proven program. The trials have shown sustainable improvements and great treatment outcomes. The platform focuses on practical approaches and evidence-based care to deliver top-notch mental healthcare.
It is also an EAP provider. So, companies can collaborate with Meru Health to provide their employees with affordable therapy/psychiatric care. And improve their work-life balance plus overall professional performance.
Meru Health is even great for providers because of its effortless referral system. It is practical and easy to tap into for the expansion of clinical practice.
I started off by first downloading the app and setting up my account. It is available on both the App Store and Google Play. Next, I used my coupon code based on my insurance provider to connect with a therapist.
The pre-sign-up process or registration involved a quick questionnaire to identify my mental healthcare challenges, goals, and specific requirements. This step also confirmed my eligibility and provided additional details regarding copays/treatment costs.
The app is equipped with many digital tools and resources aimed at providing continuous care. Long-term, holistic treatment of its patients is the ultimate goal of Meru Health. The idea is to offer a highly personalized care plan to improve your symptoms via a stronger mind-body connection.
Inclusions of Meru's comprehensive mental healthcare kit
Guided lessons – Systematically organized information to deal with mental health issues
Continuous provider care – Constant online support from psychologists and psychiatrists via chat
Biofeedback – Heart rate variability checker for a superior mind-body connection
Sleep hygiene – Scientifically-driven support to enhance sleep patterns and overall well-being
Community-based anonymous support and group interaction with people facing similar mental health challenges
Life Coaching – Customized counseling for less intense mood disorders and stress
Personal assessment – Comprehensive mental health analysis and care plan discussion for better treatment outcomes
Nutritional psychiatry – Supporting therapy and alleviating psychological symptoms by identifying primary physical/physiological factors
I was quite satisfied with the experience at Meru Health. However, it took a bit longer than usual for the platform to find a therapist as per my needs. In my case, it was 2 business days after signing up. The platform mentions that this may extend up to 7 days.
Meru Health also provided me with a handy special heart-rate variability monitoring device. This way, my heart health and progress were always in control.
My therapist was available for counseling via video calls and unlimited in-app chat features. Both of these were pretty smooth. He guided me through all the lessons and activities available on the app. I really appreciate the holistic and evidence-based approach that also emphasized improving my lifestyle, nutrition, breathing technique, and sleep patterns.
For those who may not be ready to enroll in the 12-week program, there is an 8-week program too. However, it is only designed to target mild stress, anxiety, and depression.
2. Pricing/Affordability
How expensive is Meru Health? Let us find out in this part of the article.
Meru Health's services are free of charge if the platform is your company's EAP provider. Others can use their insurance plans to reduce total treatment costs. However, no fixed pricing or upfront costs have been mentioned.
The 12-week program is a long-term mental health treatment that costs approximately $700 without EAP. People suffering from severe clinical depression are the ideal candidates for this plan.
Meru Health Coaching is an 8-week program for mild to moderate mental issues. The program offers evidence-based resources, workshops, and chat support to alleviate symptoms, decrease stress, and improve emotional well-being.
3. Insurance Coverage
Can you bring down your treatment cost to a certain extent via insurance? I will discuss more details in this section.
The price range of Meru Health's services is from $0 for EAP users to a few hundred dollars, depending on your insurance carrier/plans.
The platform is an EAP provider and also accepts the following insurance plans:
Anthem
Alvarez and Marsal
Aetna International
MetLife
Cigna
Bioventus
Sheehan Family Companies
Johnson & Johnson
American Museum of Natural History
Everlane
Golden 1
First Sun EAP
Cigna Cares
Anthem Colorado
Cigna Florida
Beebe Healthcare
ACSHIC
Texas Oncology
Christiana Care
Moda Health
Highmark Health and more leading insurance providers
I could easily use the dedicated insurance-specific discount code offered by Meru Health to get started.
Meru Health takes the responsibility of coordinating with insurance providers to get an accurate quote. The platform also accepts payments via HSA/FSA cards for those who have to make out-of-pocket payments.
4. Accessibility
How does Meru Health perform on the accessibility front? This section discusses the overall geographical coverage of the services.
Meru Health's mental healthcare services are only available to adults aged 18 years and above. Unfortunately, teenagers and children cannot use this platform at the moment.
On the geographical accessibility front, Meru Health is only available in the US.
5. Privacy
I will cover the privacy concerns related to Meru Health in this section, if any.
Meru Health has a transparent privacy policy complying with federal and state laws. The platform maintains complete confidentiality of your medical records and other information. It adheres to HIPAA standards and procedures.
My therapist was mandated to take my electronic consent to access my health records, which was quite impressive. Also, Meru Health does not give out any patient details to the employer company or third parties.
Client data is always encrypted, ensuring 100 percent data protection and safety. I have no concerns in this regard.
6. Available Treatments
How can Meru Health help you? Let us take a look at all the available services.
Meru Health is a mental health coaching, therapy, and biofeedback app/platform. All providers in the network are master's or doctoral-level licensed mental health professionals. However, the platform only specializes in counseling. No medication management services are available.
The treatment offers a blend of cognitive behavioral therapy, right breathing techniques, meditation, and nutritional psychiatry to address some of the following issues:
Stress
Clinical depression
Burnout
Sleep disturbances
Meru Health is essentially more of a holistic mental healthcare platform based on CBT and behavioral activation.
Therefore, the approaches focus on establishing the scientific link between mental disorders and physical symptoms. This way, patients can treat their mind and body together for better and long-lasting results.
7. Pros and Cons of Meru Health
This section summarizes all the major pros and cons of Meru Health's services.
Pros
The platform has easy-to-use Android and Apple iOS apps.
Services are affordable compared to conventional therapy.
Biofeedback devices/tools help in tracking treatment progress via real-time information.
Multiple evidence-based treatments used.
The treatments focus on sustainable lifestyle changes and long-term recovery.
Complete insurance coverage is provided.
HSA/FSA cards are accepted to cover treatment costs.
Free-of-charge services for company EAP customers.
Extremely smooth and systematic registration, sign-up, and treatment process.
Cons
Meru Health's services do not include medication management and complex psychiatric treatments.
The services are not available to children and teenagers.
The platform does not provide in-person visits or phone sessions.
Self-guided approaches cannot help patients in emergencies or crises.
Meru Health's services are only restricted to the US as the platform only accepts insurance plans active in the country
Conclusion
I am all for clinically proven, evidence-based psychotherapy. Meru Health is great if you are on the lookout for effective talk therapy combined with self-guided treatment.
With a licensed provider by your side, you will consistently develop ways to achieve sustained emotional well-being.
Meru Health's 12-week program has shown noteworthy results in the past. Approximately 75% of the patients have reported significant improvement.
So, this is a legitimate mental healthcare platform. And it is definitely worth a try if you need impactful therapy for healthier well-being in the long run.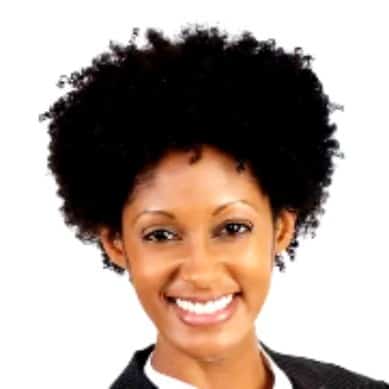 She is an experienced Clinical Psychologist and Mental Health Writer with a decade of expertise in psychology. Skilled in assessment, therapy, and patient care. Committed to helping individuals through clinical practice and mental health writing at Therapyjourney.co. Passionate about promoting mental well-being and awareness. Open to aligned opportunities.