In the present era, with the rapid rise in digital advancements, stress and mental health have become major concerns. These issues are undeniably on the rise, and it is important to address them to improve our overall mental well-being.
Our modern lifestyles involves an ever-competitive environment. This makes people more prone to mental health issues.
And this impacts the efficiency and productivity of the entire company rather than just the affected employee. This is why employers are recognizing the significance of their employees' mental health. And this is leading to a surge in platforms that offer support in this domain.
One such platform is Spring Health. Founded in 2016 in New York, it aims to empower employers to provide comprehensive mental health support to their employees. Since partnering with WPO, Spring Health is now available in over 200 countries. They are helping thousands of employers provide holistic support to their staff.
But does all this make it an effective and trustworthy platform to solve your mental health problem? To find out, stick till the end.
What Is Online Therapy? – From A Professional Perspective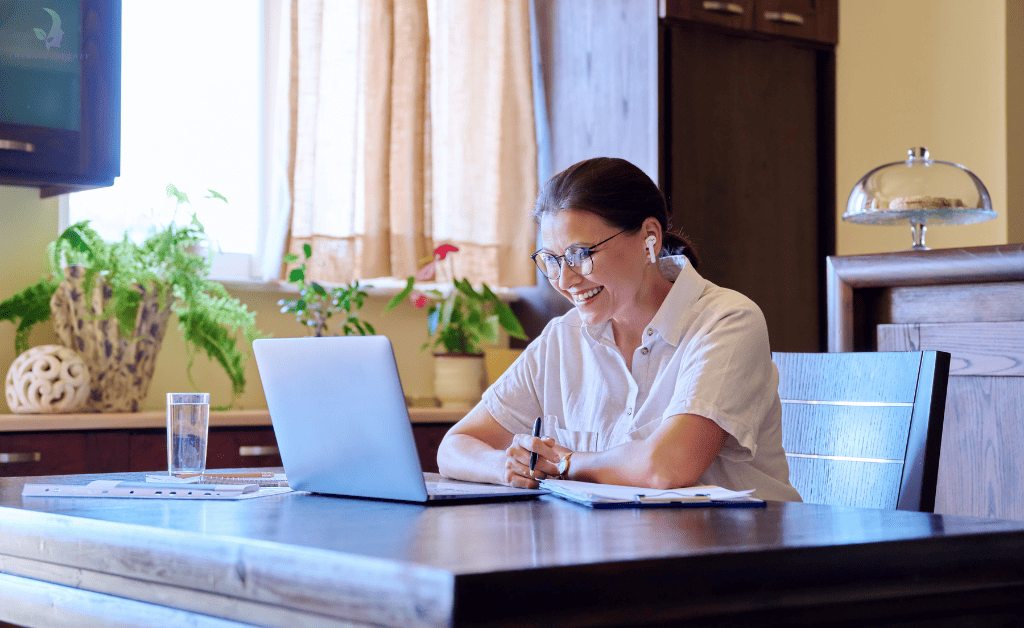 Online therapy is the method of providing/receiving mental health services and support over the Internet. You can be a user and receive these services through live text messaging, video conferencing, or phone calls.
In the post-pandemic years, online counselling has gained huge popularity. And it has become an integral part of many professionals' practices.
It offers practical flexibility to individuals who face mobility issues or live in remote areas with limited access to therapists. The ease of using meeting platforms like Skype, Meet, and Zoom makes online counselling a convenient option.
Another key advantage of online counselling is personal preference. For some, it can be easy to stay in the comfort of your own home, feel safe and peaceful and still receive the required therapy to fortify your mental health.
Especially for beginners, this can significantly boost confidence. Research has shown that online counselling can be just as effective as traditional face-to-face therapy. This ensures that you have the same chance of a positive outcome.
Yet, online counselling does come with some extra responsibilities for the client, like creating a dedicated, interruption-free space for sessions to ensure a productive experience.
Spring Health: A Comprehensive Review
Founded in May 2016 by April Koh and Adam Chekroud, Spring Health aims to revolutionize mental healthcare. They plan to do this by adapting to data-driven insights.
The name "Spring Health" symbolizes the season of renewal and change. Reflecting the company's mission to bring positive transformation to mental health care.
This innovative platform uses Precision Mental Healthcare, a proprietary and clinically validated technology. This helps curate mental health solutions to each individual's unique needs. Whether you need self-help exercises, behavioral coaching, therapy, medication, or even rehabilitation, Spring Health has you covered.
Here are some notable aspects of Spring Health:
Pros
Personalized Mental Healthcare: Spring Health uses data-driven insights and machine learning models. This helps in creating personalized mental healthcare plans for every individual.
Dedicated Care Navigator: Each member gets a Care Navigator who guides them through their healthcare plan. They also answer questions, help schedule therapy sessions, and offer support throughout the mental wellness journey.
Cons
Employer-Sponsored: Access to Spring Health's services is dependent on your employer's subscription, which can be a big con for many, especially freelancers.
Language Limitation: Spring Health is currently available only in English. So, if you aren't fluent in English, your sessions may not appear that useful.
How To Get Started At Spring Health?
To begin your mental health journey with Spring Health, you have to complete a mental health assessment. In this step, you also need to provide essential information about yourself and the problems you are encountering.
Spring Health's Precision Mental Healthcare technology then assesses you and identifies various mental health conditions. After deep assessment, they will create a personalized care plan.
This plan may include self-help resources, quick mental exercises based on Cognitive Behavioral Therapy (CBT) techniques, behavioral coaching, therapy sessions, self-guided therapy, and medication.
Once your employer subscribes to Spring Health's Employee Assistance Program (EAP), getting started is straightforward. You can log in through the website or mobile app to complete a clinically validated self-assessment test. Then, you will receive a personalized mental healthcare plan based on your responses.
Spring Health boasts its impressive statistics, where they've shown 2X higher recovery rates and an 8-week faster recovery compared to traditional mental healthcare. Moreover, Spring Health ensures the quality of its therapists through a rigorous 7-step vetting process. Thus, you can be sure that your precious mental health is in the safe hands of an expert.
Who Shouldn't Buy Spring Health?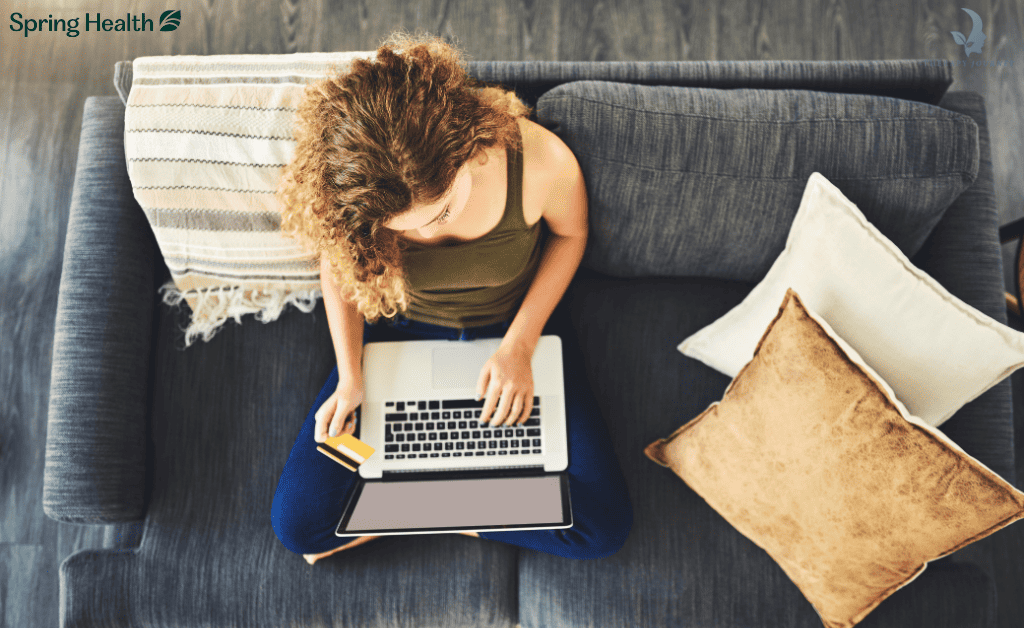 It's important to note that Spring Health's services are not for everyone. The services are accessible only through employer subscriptions. If your employer hasn't enrolled in the program, you won't have access to these benefits.
Who Are Spring Health's Customers?
Notable organizations such as Whole Foods, Equinox, Kayak, Sequoia, and Instacart have recognized the value of Spring Health's services.
However, there are a lot of other lesser-known organizations spread across the globe that recognize the importance of robust mental health for their employees and overall workforce. Hence, they are also signing up on this platform.
Spring Health Key Features
The following are the myriad of essential features that Spring Health boasts of.
Self-help resources
Exercises based on Cognitive Behavioral Therapy (CBT) techniques
Medication management
Therapy sessions with licensed therapists
1:1 behavioral coaching sessions
Self-guided therapy
Critical incident and immediate crisis support
Over 70 readymade training sessions on topics like management, leadership, diversity, and more.
Spring Health Key Integrations
Also, Spring Health integrates with your existing benefits ecosystem. This provides a 360-degree approach to employee well-being.
What Are The Services Spring Health Does Not Provide?
Like the majority of online mental health support platforms, Spring Health does not provide any medical advice. It is there on their website's terms and conditions that they are in no way trying to replace an in-person physician or mental health care provider.
Spring Health Pricing Details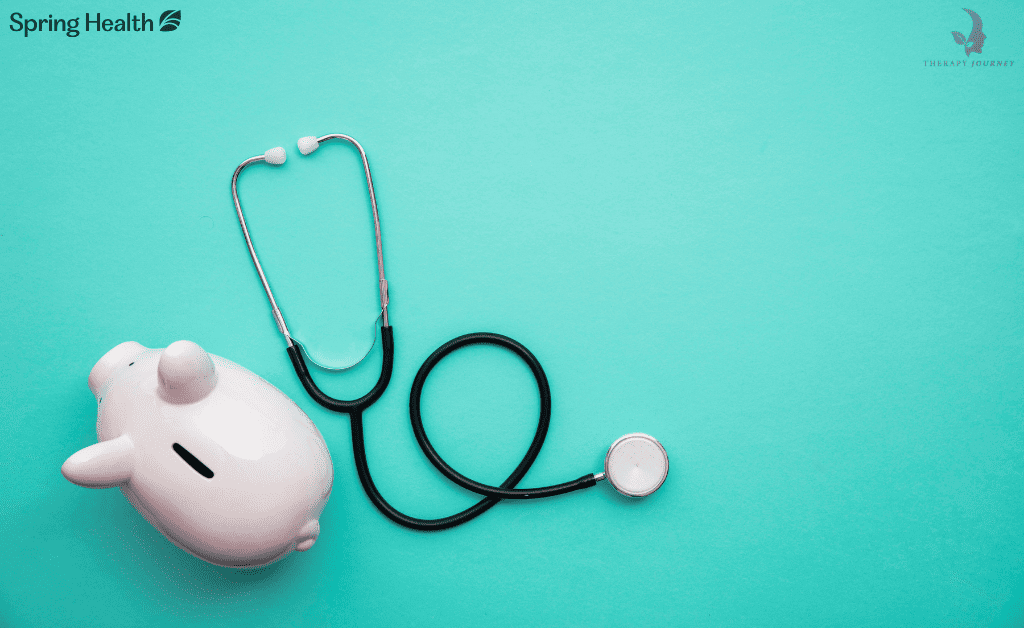 For employees, the first 10 sessions every calendar year are free. Afterwards, they may need to cover the costs out of pocket, although in some cases, insurance might provide coverage. Employers can contact Spring Health to discuss pricing with their benefits administrators.
Spring Health Customer Success
If you have questions about Spring Health's services, their customer support team is available via phone or email. Additionally, Care Navigators guide members are available 24/7. You can contact them through the platform to provide emotional support to the users.
FAQ's
Is Spring Boot a part of Spring Health?
No, Spring Boot is not a part of Spring Health. Spring Boot is a framework that makes it easy to create Java applications. So it's fair to say they are nowhere close to each other.
Will Spring Health share my reports with my employer?
No, Spring Health will not share your assessments or responses with your employer. Once your employer signs you up for the plan, they won't even know if you use any of Spring Health's services.
What is the mission of Spring Health? 
The mission statement of Spring Health is to make mental healthcare more accessible.
Final Thoughts
Hope this article has helped you find your answer to online therapy and Spring Health, in particular, is efficient and suitable for you.
Spring Health is a leading platform that provides innovative mental health solutions for professionals. Its data-driven approach and personalized care plans make it a powerful tool for improving mental well-being.
On the downside, the access is employer-dependent, so it might not be an available option for a few. However, its commitment to quality and innovation ensures that it remains at the forefront of the mental health support landscape. If you ask me, Spring Health is undoubtedly a legitimate and effective choice.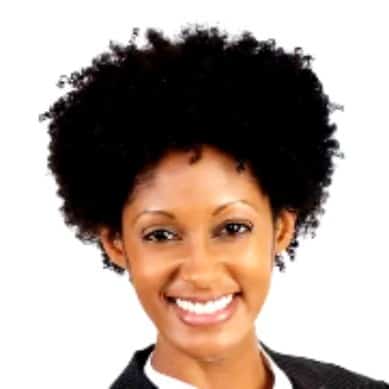 She is an experienced Clinical Psychologist and Mental Health Writer with a decade of expertise in psychology. Skilled in assessment, therapy, and patient care. Committed to helping individuals through clinical practice and mental health writing at Therapyjourney.co. Passionate about promoting mental well-being and awareness. Open to aligned opportunities.